Introducing Jinseki Cattle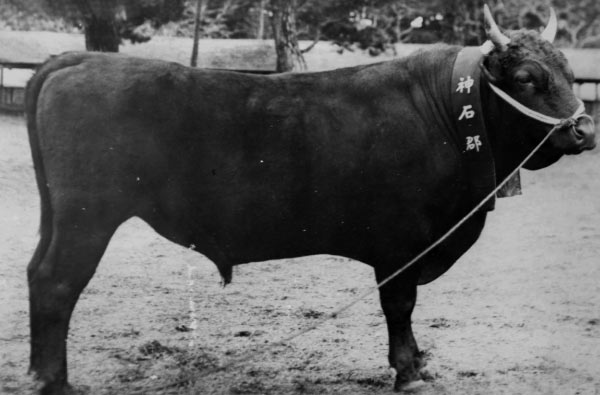 In April 1916 (Taisho 5), the Hiroshima Prefectural Breeding and Stockbreeding Center was established in Jinseki County, and seed bulls were bred and distributed within the prefecture. As seed bull breeding became more active, many were purchased in and out of the prefecture, and the reputation of "Jinseki cattle" became widely publicized, becoming synonymous with cattle produced in Hiroshima Prefecture. *Seed bulls: Bulls used for breeding purposes.
In May 1926 (Taisho 15), the Crown Prince visited Hiroshima Prefecture, and the Jinseki cattle of "Houjin" and "Houjitsu" were shown at the ruins of Fukuyama Castle. With this serving as a catalyst, when Emperor Taisho passed away on December 2, 1926 (Taisho 15), and a grand funeral ceremony was held on February 7, 1927 (Showa 2), four Hiroshima cows (two of which were Jinseki cows) had the honor of being the first cows other than Tamba cows from Kyoto to be given the order to pull a hearse.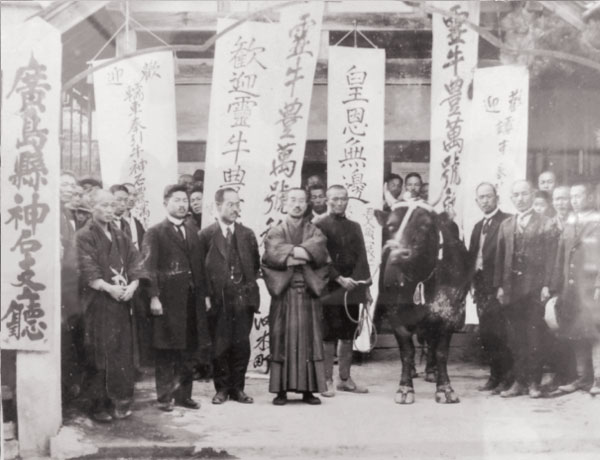 Following the ceremony, the two cows (the Jinseki cattle "Houman" and the Hiba cattle "Yahata") that served as hearse pullers were given free of charge by the Ministry of the Imperial Household (imperial gift) at the request of Hiroshima Prefecture. "Houman" produced a large number of seed bulls in its offspring and had a significant impact on cattle breeding in Jinseki County and Hiroshima Prefecture, and the lineage has been passed down through the generations to the present day. "No.2 Yokotoshi," the 6th generation of the legendary Houman that pulled the hearse was born and had excellent body growth and meat quality. (A monument in honor of Houman still remains at the site of the Breeding and Stockbreeding Center in Jinseki County.)
以下の基準を満たしたものが、神石牛振興協議会により「神石牛」として認定されます。
1.黒毛和種の去勢牛または未経産雌牛。
2.神石高原町で最長期間飼育された牛であること。
   ただし、「神石血統」(※)を有する場合は、神石高原町で生まれ、
   広島県内で最長期間飼育されている牛も対象とする。
3.(社)日本食肉格付協会の定める牛枝肉取引規格の肉質等級3以上、歩留等級B以上であること。
※神石血統とは
公益社団法人全国和牛登録協会が発行する子牛登記証明書を有し、記載されている三代祖(父牛、母の父牛、母の母の父牛)のいずれかが、神石血統牛「第2横利」の血を受け継いだ広島県有種雄牛であること。◎神石血統を持つ種雄牛については、「広島県種雄牛紹介」ページをご参照ください。
      

☆神石牛振興協議会認証「神石牛」は、平成27年3月29日(日)よりスタートします。
詳細については、神石牛振興協議会HPもご覧ください。